22.09.2023 | Dubai, UAE
In times of medical emergencies, every second counts. Lives hang in the balance, and access to swift, excellent medical care can make all the difference between life and death. Enter air ambulance operations – the unsung heroes of emergency medical services. They provide rapid response, transportation to those in dire need, and significant cost-efficiencies but their success relies on a dedicated, highly skilled, and motivated support team.

At Air Rescue Group, we understand the critical nature of our work. Our air ambulances are permanently configured to meet the highest international standards. They are equipped with state-of-the-art medical equipment and staffed by doctors, intensive care nurses, and advanced life support paramedics. Our medical professionals are not only trained in aviation, but also in emergency medicine, continuously undergoing additional training and ensuring that patients receive the best care possible during their air ambulance journey.

However, behind the scenes, there is a team that plays a pivotal role in ensuring the smooth operation of air ambulance services – our mission controllers. These individuals are the lifeline between our air ambulances, medical crew, hospitals, ground ambulances, and other stakeholders involved in cross-border patient movement.

Imagine a 24/7/365 setting, where dedicated and highly skilled mission controllers work tirelessly in our Mission Control Center. They handle a multitude of tasks, acting as the central hub for coordinating air ambulance support. From coordinating flight times and airport information to obtaining medical acceptance and managing permits and entry requirements, our mission controllers ensure that every aspect of the air ambulance mission is meticulously planned and executed. The critical role of Air Rescue Mission Control is not without its challenges. However, the rewards it brings far outweigh the obstacles. Contribution of Mission Controllers to the efficiency of air ambulance operations, results in cost savings for both patients and insurers.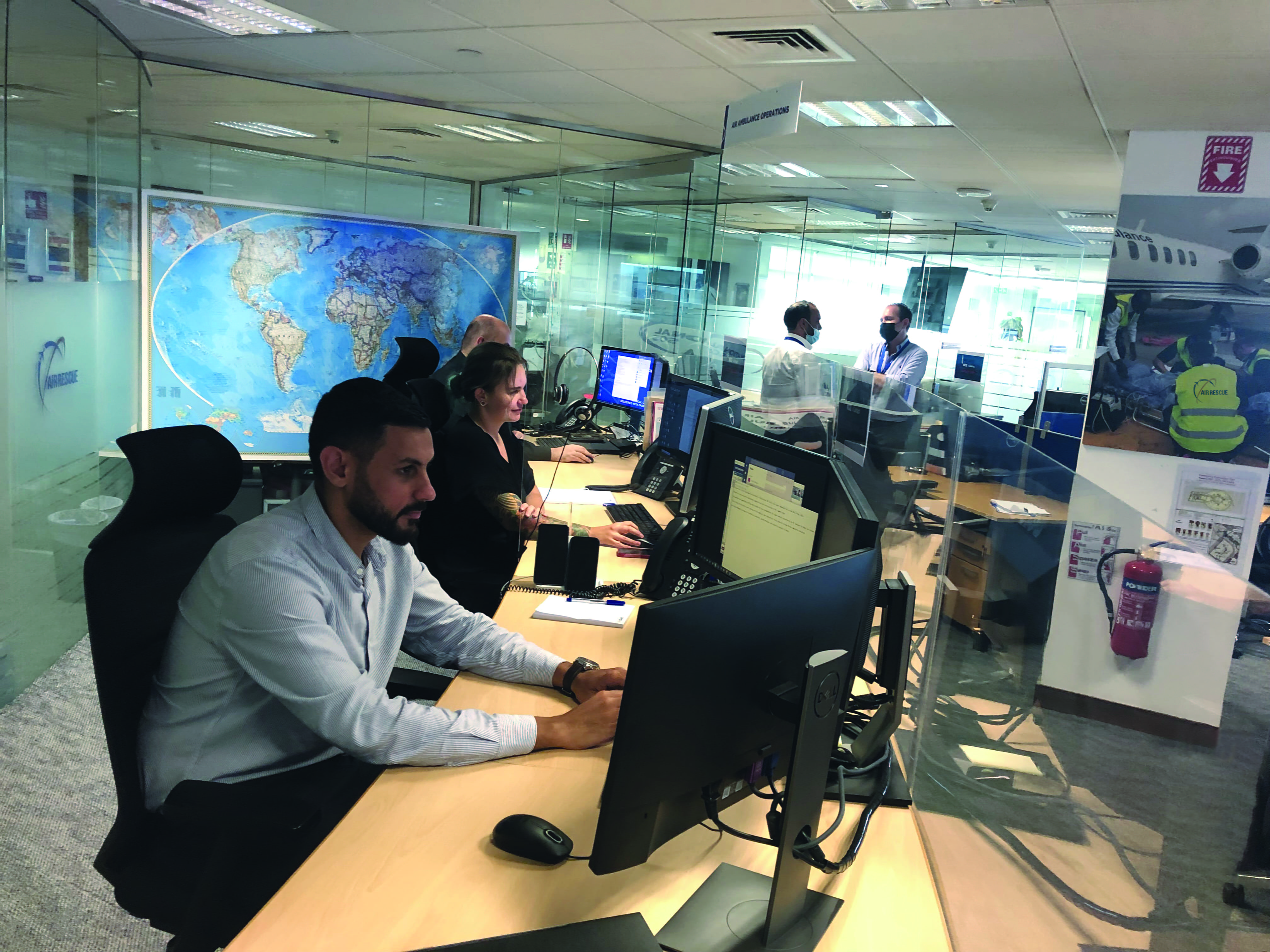 Once all the necessary information is gathered and the associated quote is accepted, the mission controller springs into action. They activate the air ambulance mission, ensuring that all involved parties are promptly notified. Throughout the active mission, the mission controller remains vigilant, coordinating any changes or unforeseen circumstances that may arise. Their ultimate goal is to ensure the safe transfer of the patient to the receiving hospital, while also ensuring the well-being of the medical crew.

But the work doesn't end there. After the air ambulance mission is complete, our mission controllers still have important tasks to handle. They meticulously handle paperwork, ensuring that all medical-related documentation is filed in compliance with GDPR rules and regulations. They update various tracking and finance systems, ensuring that everything is in order.

Beyond the logistical aspects, the impact of air ambulance operations is immeasurable. Lives are saved, and lives are transformed. For patients facing life-threatening emergencies, air ambulances provide a lifeline of hope. Families are spared the heartache of losing loved ones, and communities benefit from improved access to medical services, leading to better overall health outcomes.

To ensure that our mission controllers are equipped with the necessary skills and knowledge, we invest in their ongoing training and development. Leadership, coaching, Lean Six Sigma, security, CPR AED, malaria awareness, and unconscious bias are just a few examples of the training programs we offer. We believe that continuous education and experience in real-world situations are essential for our mission controllers to excel in their roles.

In conclusion, air ambulance operations play an indispensable role in modern healthcare. They provide rapid response, lifesaving medical transportation to those in dire need and cost-efficiency for patients and insurers.
Henrik Abitz, Head of Mission Control at Air Rescue Group

Henrik
has three decades of experience in the aviation industry, starting as a commercial pilot in his native Denmark and later moved into aviation management. He has held numerous nominated postholder positions in the aviation industry and holds an AVSEC PM diploma from Concordia University.

Henrik moved to Dubai in 2003 heading up Operations for ExecuJet and joined Air Rescue Group in 2023 as Head of Mission Control for our air ambulance program. With Henrik's vast experience and expertise, he is well positioned to head up Air Rescue Mission Control.